Executing a successful digital marketing strategy takes a lot of work and a lot of hands.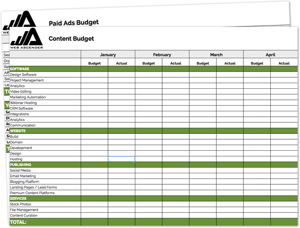 When there are multiple people contributing to your overall strategy, it is essential to keep a close eye on your marketing budget and who is spending what, how, and when. That's why we put together a comprehensive marketing budget template - so you can use one spreadsheet to keep your digital marketing budget organized and in one place for 2020.
Download the free marketing budget template, to easily keep track of expenses for:
Content
Paid advertisements
Branding & creative
Talent
Software
Additional / custom expenses
Fill out the form to download the budget template now!